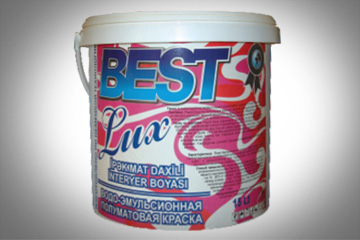 BEST Ipek Mat Daxili Interyer boyasi ---- BEST Semi Matt Emulsion Interior Paint

Semi matt, snow-white acrylate decorative interior paint. It is designed for new or previously painted plaster, concrete, stopper, brick, cardboard, paper overlaid and wooden surfaces, fiberboard, chipboard and plasterboard painting.
It can be applied on all dry surfaces of living room, bedroom and other dry areas. Can also be applied for walls and ceilings in humid areas and in areas with surfaces that require resistance to washing and wear. It holds more than 20,000 brushings. Not suitable for doors and furniture. Thinner is water.
Application and specification:
The entire surface must be sound, clean, dry and free from substances preventing adhesion before applying Semi matt emulsion interior paint. Air temperature should be above +5º С with humidity below 80 %. In case of necessity the surface should be straighten with suitable "AKBAY ALCI" gesso. Polish dry surface and clean out of dust. Prime with "BEST Binder" prime coat after cleaning.
Previously painted areas:
Wash the surface with "BEST Binder" bath. Polish solid, glossy, colored surface until it's dull. Remove from dust. Straighten irregularities with suitable "AKBAY ALCI" gesso. Polish dry surface and clean out of dust. In case of necessity, prime the surface with "KECID Astar" primer. Stir the paint thoroughly and if necessary dilute with water. Apply with a roller or sprayer for1-2 coats. Use brush to paint the border lines. Clean out freshly painted surface very carefully, as a fresh coat reaches its final hardness and durability in a month after painting. If necessary, clean with a dry or wet soft cloth.
In a +23 °C temperature with 50% of relative humidity. 2 hours for tack. Next coat can be applied in 4 hours.
Keep at room temperature in a tightly closed container. Keep in undiluted condition.
Shelf life:
3 years from the manufacturing date.