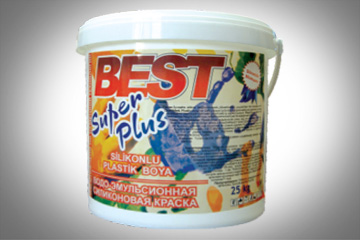 BEST SUPER PLUS -- BEST Washable water and emulsion paint for interior use.

SUPER PLUS - acryl copolymer washable matt emulsion paint with a silicone admixture, designed for decorative works indoors.
Perfectly covers painted area. It is resistant to destructive impact of sunlight, moisture, rain and salty sea water. Due to elastic structure will not fade, chip or blister. It is easy to use. It gives surfaces matt and decorative look.
The entire surface must be sound, clean, dry and free from substances and purged with BEST BINDER, then 2-3 hours later, the paint should be applied in two layers with an interval of 2 hours. For first coat 4 volumes of paint should be diluted with 2 volumes of water, for second coat 4 volumes of paint should be diluted with 1 volume of water. 1 liter of paint may cover 3-4 square meters.
Store container tightly closed and undiluted at room temperature. Shelf life: 3 years from the manufacturing date.