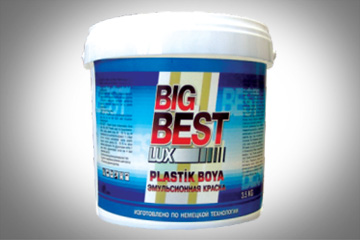 BIG BEST LUX PLASTIK – BIG BEST Lux emulsion for interior use.

High-quality, decorative dull paint on acrylic copolymer basis for interior works.
It has a high stickiness on all kind of surfaces. Due to its high elasticity does not crack and passing moisture through its surface and thereby prevents the formation of humidity. It is easy to apply. It has superb whiteness and spreading capacity.
Can be applied to all kinds of plaster and cement interior surfaces.
The entire surface must be clean from old paint and treated with BEST binder. For first coat 10% of paint and for the second coat 5% of paint should be diluted with water.
Avoid direct sunlight. Store container tightly closed in an undiluted condition with temperature of +5°C ÷ +35°C.
Avoid body contact. Keep out of reach of children.