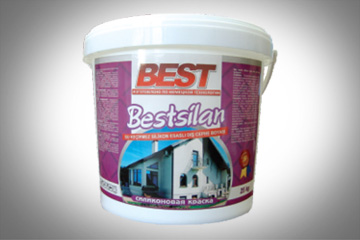 BEST SILAN --- BEST Silicone brick and concrete paint (emulsion)

Made on water base. Prevents the penetration of moisture (wet) to the outer surface of the walls. Resistant to ultraviolet rays and weathering due to the silicone base. It has good spreading capacity and is environmentally safe.
The surface should be dry. Before applying, old paint has to be removed from the surface. Apply in two layers with a brush, roller or sprayer. No more than 10% should be diluted with water. Can be applied at the temperature only above 15 °C and below +30°C with 12 hours interval between the layers.
Complete drying for 24 hours at a temperature of +20 ° C and 65% humidity.
Consumption:
150-200 ml per 1 square meter in a single layer.
Store container tightly closed in a place with temperature of 15 ° C ÷ 30 ° C in undiluted form. Shelf life: 3 years from the date of issue.