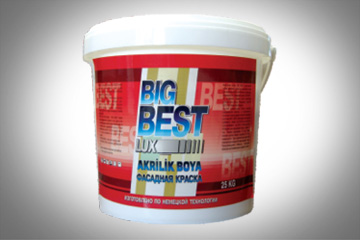 BIG BEST LUX FASAD – BIG BEST Lux Facade Paint

High quality matt emulsion paint on acrylic-copolymer base for exterior use with good color strength, which provides an excellent long-lasting covering. Contains fungicide and algaecide additives which prevent the formation and growth of mold and fungus.
When applied with roller leaves no marks and creates superb isolating layer resistant to weathering.
Facades of buildings covered with asbestos - cement plaster of all kinds, old stone and brick buildings dressed with cement plaster. Sunburn proof even on the sunny side minimum 15 years.
The paint is applied to the thoroughly drained surface (at least 10 days after plaster work at 20°C). Paint is applied on two layers:
The first layer is 5% ÷ 10% of water per liter of paint; the second layer 3% ÷ 6% per liter of paint. It's necessary to wait an hour between the first and the second layers. The works should be done at a temperature not lower than +5 ° C and below 80% of humidity.
Before painting surface must be cleaned of any residual dirt, dust, grease and oil stains, grime, etc. which would prevent the complete absorption of paint. For better paint absorption surface should be drenched with the BEST Binder.
Store container tightly closed in a place with temperature above 0 ° C and below +40 ° C. Avoid direct sunlight.
Avoid body contact. Keep out of reach of children.