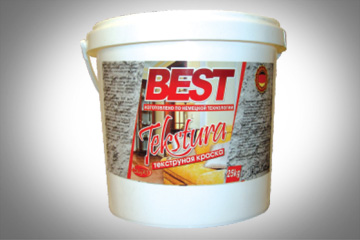 BEST TEKSTURA Boya --- BEST texture brick and concrete paint.

Silicone based texture paint for all kinds of interior and exterior surfaces. Its special-effect is that, when applied to the surface BEST TEKSTURA not only masks minor cut or cracks, but will also attach visual exclusiveness with its prominent painting. BEST TEKSTURA will boost its decorative function by making the coarse dilution and following paint of cuts and cracks look like a part of overall facade design appearance. And since it is generally accepted to apply the texture thick enough - it saves on filling - in this case you can simply do without.
It is resistant to destructive impact of sunlight, moisture, rain and salty sea water and ecologically safe.
Clear out of dust and dust. Work up glossy surface to make paint stick easily. To get of rid of fine cuts use BEST Mecun facade filler. Apply 1 coat of BEST TEKSTURA. To obtain desired color hue applies another coat of BEST TEKSTURA, 5%--10% diluted with water. Surface, material and air temperature should be between +5°С and +30°С. Use brush, roller or sprayer. Don't apply in strong breeze and direct sun light. Drying time is 24 hours at 65% humidity and 20°С temperature.
3, 5 kg, 10 kg, 25 kg.
Minimum 3 years (at +5°С temperature) in undiluted condition in a tightly closed container.
Precautionary measures:
Group S-2