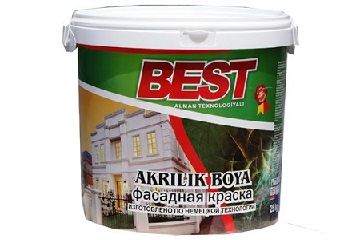 BEST AKRILIK boya -- BEST brick and concrete paint.

Matt acryl copolymer emulsion exterior paint
•
Easy application without any leaks, splatter and stain;
•
Flat matt surface after application;
•
Long-lasting "breathing" paint coat will be resistant to mechanical effects and weathering;
•
Antirot constituent in paint will prevent the formation and growth of mold and fungus;
•
Mixable with any color;
The entire surface should be dry. Before applying, old paint has to be removed from the surface. Apply in 2 coats with brush, roller or paint spray. Water volume for dilution: not more than 10%. Apply at the temperature above 15 °C and below +30°C with 12 hours of intervals in between the coats.
Complete dry out in 24 hours at +20°C temperature and 65% of humidity.
150-200 ml for 1 m2 of a coat.
Store container tightly closed in a place with 15°C - 30°C temperature in undiluted condition.
Shelf life:
3 years from the manufacturing date.