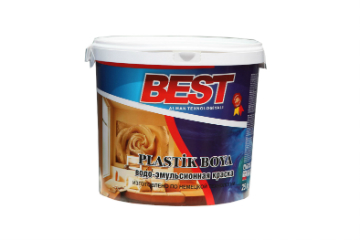 BEST PLASTIK --- BEST matt emulsion interior paint.

Matt emulsion interior paint gives surfaces matt and decorative look.
Matt emulsion paint for interior use on all kinds of surfaces: plaster, concrete, paintable wallpaper, etc. It shows a high stickiness to the entire surface. Easy for application.
The entire surfaces must be sound, clean, dry and free from substances and purged with BEST BINDER, then 2-3 hours later, the paint should be applied in two layers with an interval of 2 hours. First coat: 10%-15% water per liter of paint; second coat: 5% water per liter of paint. One liter of paint may cover 3-4 m2.
Store container tightly closed in a room temperature in undiluted condition.
Shelf life:
3 years from the manufacturing date.