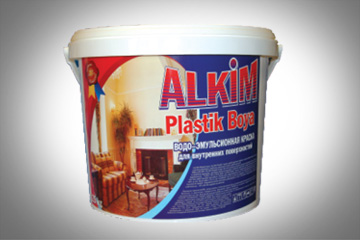 ALKIM PLASTIK boya — ALKIM emulsion interior paint.
White matt emulsion paint for ceilings and walls. Designed for all kinds of concrete slabs, plastered and glazed surfaces. For dry areas.
Easy spreading. Forms uniform film on dryout. Creates a vapor permeable coating. Does not contain organic solvents. No odor nuisance. It does not emit harmful substances.
Inexpensive emulsion paint for ceilings and walls for areas where the quality of repair work does not impose high requirements or the room destination has a rapid pollution tendency.
Tinting:
With water pigment paste of BEST Color.
Shelf life:
2 years in original container at temperature of +5°С - +35 °С
Frost resistance:
Can be stored or transported at temperature of -25 °С minimum.
Apply acryl paint on solid dry surface with brush, roller or paint spray at temperature not below +5 °С. Drying time between coats is 1 hour. Complete drying at temperature of +20 °С and 60% humidity in 24 hours. Dilute paint with water not more than in 10% ratio. Prime chalking surface and absorbing foundation bed with BEST Binder.
Paint Containers:
Plastic cans 3.5 kg; plastic pails 10 kg, 25 kg.
It is non-toxic, fire and explosion safe. In case of contact with eyes, rinse with plenty of water.